Happy New Year Everyone!!
Last week Chris and I got together to work on some vocal tracks and also got down to a bit of writing for album #3 ("Courage Of Conviction"), which was loads of fun and very fruitful, with 4 new songs being worked on (Chris has demoed one of them already).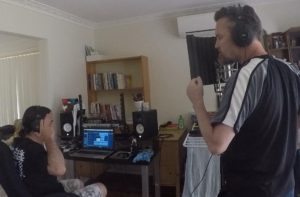 While I was in Melbourne the opportunity to get together to perform "Slackers & Wankers" acoustically wasn't something we were going to pass up, great fun was had and the feedback from the people at the Basement Bar was excellent, so there will be a return performance later in the year.
In "Live To Fight Another Day" news, the album is nearly completed, all drum tracks are now done (cheers to Dennis Leeflang), the final mix of the title track is now completed. The plan now is to have the last bits and pieces (just some lead vocals and guitar, bass and keyboard parts) for the album completed and then we will go on with the process of final mixing (it can be quite a long process but very rewarding) and then mastering. Hopefully we'll be able to release the album around September.
In the meantime we will continue with laying down the foundations for the recording of the 3rd album, a few of the other guys have expressed an interest in contributing to the writing –  in fact Paul Jolley will be credited with writing at least 2 of the songs from "Courage Of Conviction", Rob Smith is responsible for writing one song, Chris has a song of his own he has thrown into the pot. It's looking likely that we will have more than enough songs to fill the album (we have actually written enough already, but as we find when we add to the pot we wind up coming up with some killer ideas…so follow the muse we shall). Alexey Spectre and Roy Bratbakken may also have musical contributions added to the fold.
til next time….
Richard