So who are these Feckers that we're on about then?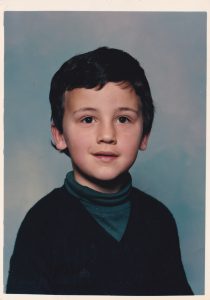 Well it all began in the late 1990?s on a Brian May email list where a Mr Richard Anderson from New Zealand, and a Mr Chris Szkup from Australia used to post often due to their love and worship of the great band Queen. Richard at the time had been writing lyrics for the majority of his life and was then trying to put together some online collaborations, while Chris had been playing in a couple of bands in Hobart, Tasmania, but had also just done his first round of solo recordings, and was moving away from the band thing for a while to get time to fully focus on his own music. Neither of these guys are what you would call "typical", as further reading of this site will reveal in no time, so when the day came that one of them made a cheesy gag on that previously mentioned email list, of course the other guy was right there laughing and probably doing some metal horns while other folks on that list were saying "please stay on topic guys".
So this banter over time grew, and led to correspondence outside the list, and both guys realising that each other had quite a lot of musical
While the reasons are many, and far more complicated than we would like to put you through here, unfortunately as sometimes is the case, the planets weren't going to align and have that happen so simply……YET. After some re-evaluation the guys decided to leave their still growing catalogue of co written songs for now with a plan of "nailing them when the time is right".
ideas in common, and maybe they should look at seeing what they could come up with. And that's exactly what happened. The first track was written shortly after and demoed in very rough acoustic fashion as were a few others quickly after, with the plan of having them recorded definitely in the guys thoughts.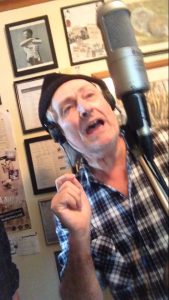 Some years passed, with Richard finally getting to have his online collaboration vision realised, which led to the band GONE WILD with his good friend Rob Smith, and Chris answering the call from the big city relocating to Melbourne, Australia with the vision of finding a way to make money to fund the making of music. The guys kept in touch over this time, always keeping each other up to speed with where they were at, still occasionally writing more songs together – one even in the futuristic manner of using MSN, which was a long way from the sending handwritten lyrics through the mail, then email that the guys had started off doing.
By the second half of the 00's, GONE WILD had released two albums, and Chris' own debut album was also coming out, and the question for both the guys was "what's next", with Chris even during the creation of his "Pieces of Eternity" album, getting a real inspiration for this new situation of having his songs being able to come to life, being drawn back to those early co written songs with Richard in a big way, and maybe as early as 2007, deciding that he'd finally like to revisit them and see them tended to the way they deserved to be. Luckily Richard was totally up for that as well, and some re-demoing began in 2007. It was on!!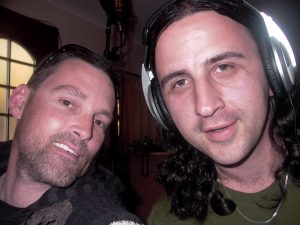 Due to the circumstances around their meeting up (which finally happened in person in 2010!!), the guys figured it would be a nice idea to have some other musician friends from around the world possibly join in on their efforts when it was to happen. In some cases it was even a matter of the guys getting the courage to ask some of their musical heroes to possibly come on board, but not even really expecting any kind of response. Pleasingly, the cliche "you don't know unless you try" is absolutely true, and the album that would eventually become "It'd Be Rude Not To", features some musical heroes to both Richard and Chris, and they were definitely honoured to get the opportunity to "bring it" with people they look up to so much musically. The album has grown from that initial idea to feature guests from all around the world – friends, family in some cases, family of other guests, significant others etc – it's a real tight group of great folks banning together to make some hopefully great rock n roll. A brotherhood and sisterhood in rock!!
The next part of the puzzle – what to call this thing? Luckily for a quiet guy like Chris, who would tell you himself doesn't find the whole naming of songs or bands natural, Richard Anderson is never short of an idea where words are concerned. At some point in the past, it was joked upon to have a project called The Fuckers, which seemed hilarious, but at the same time, a little too distracting, and hard to have as anything other than a pisstake punk band, so it was eventually scaled back to be The Feckers, which is also a bit of a Father Ted reference – that was another big part of the project – the wearing of influences on the sleeve.
2012 saw the release of four singles, basically because the guys came up with too much material for the album, and as a means to have
SOMETHING out there while the album was being finished. "Just" a hard rocker featuring Roy Bratbakken on lead vocals, "Wasted Years" (a cover of the great Iron Maiden song) featured Irene Slade on lead vocals, "Far From Done", a more mellow track was the first to feature Yohei Eto on vocals, while "Music Keeps Me Sane" was a melodic rocker featuring Carl Lindquist on lead vocals and David Austin on bass. These tracks were mixed by Dennis Leeflang and mastered by Maor Appelbaum, with artwork by Dan Verkys and proved a great way of keeping things moving in the downtime while Stew Long worked up the mixes throughout that year around his many other commitments. The response was generally very good to the music, "Wasted Years" especially received airplay in serveral countries on the day of it's release!!
M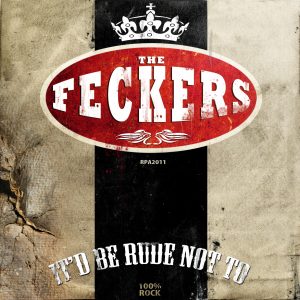 arch 2013 finally saw the release of "It'd Be Rude Not To", which Chris and Richard marked the occasion by catching up in both Australia and New Zealand for some hanging, jamming, rock shows, and general good times. Some acoustic performances did happen on North West FM in Melbourne, but what was planned to be the unofficial launch of the album wasn't meant to be when Chris' dad fell ill, and sadly passed away not long after. This halted all things musical for quite a while, although it did inspire some re-written lyrics to an older piece of music Chris had called "Like Yesterday", now reworked to be a tribute to both of his parents. The following year he also released the "Resist to Exist" album, while The Feckers continued writing songs and having Dennis play on the occasional song as well. These added up quite quickly.
For a while it wasn't clear if there would be another release from The Feckers however, mainly due to the high costs of simply being, and the devaluing of music contributing to a level of support not quite what it seemed it would be with the album's release, although the guys are extremely appreciative of those that did come out in full force to support the cause!!!
Fast forward to 2017, Chris flew to Jakarta for the first time to meet with a certain Ponch Satrio, who spoke with glowing pride and enthusiasm about the whole Feckers project, which in a way perhaps made Richard and Chris realise that there might be life in the old dog afterall. 
March 2018 came and went and the decision was made to record what would be "Live To Fight Another Day" by April of that year. Originally intended to be an EP, but once the ideas and recordings started flowing, The Feckers knew very quickly that this had to be a full album and not just an EP. Tracking continued throughout that year, and well into the next, at the same time as plans starting to take shape for what might even follow the album. The guys had a new found appreciation for their little ensemble, and what seemed like endless ideas.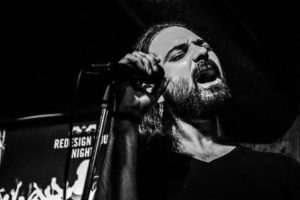 Jan 2019 saw the release of the W.A.S.P cover "Mean Man", our first time working with Turkish vocalist Tugra Ismail, who will be appearing on some original material with us into the future. The track was mixed by Dennis Leeflang @ Livelong Productions, and mastered by Maor Appelbaum, and as always, artwork was by Dan Verkys – this was the first release under The Feckers banner since 2013.
Following this, for the remainder of 2019, tracking and then mixing of "Live To Fight Another Day" continued, as well as writing and recording for the 4 album concept "Courage Of Conviction" (a title that had been hanging around since 2001).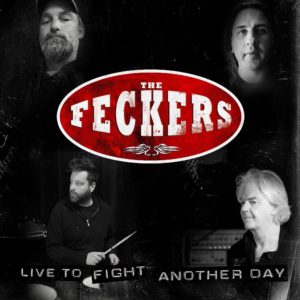 The guys started 2020 strongly, having the album mastered by Thomas "Plec" Johannson @ The Panic Room (Sweden) while continuing writing and recording of future material. So inspired by the results, it was discussed that a pair of singles would be released from the album as soon as possible, the first was the title track "Live To Fight Another Day", a track that we felt is even more relevant given the tough times people are facing all over the world. Featuring Richard, Chris and Lydia Salnikova, with Neil Murray (Whitesnake, Gary Moore, Brian May Band)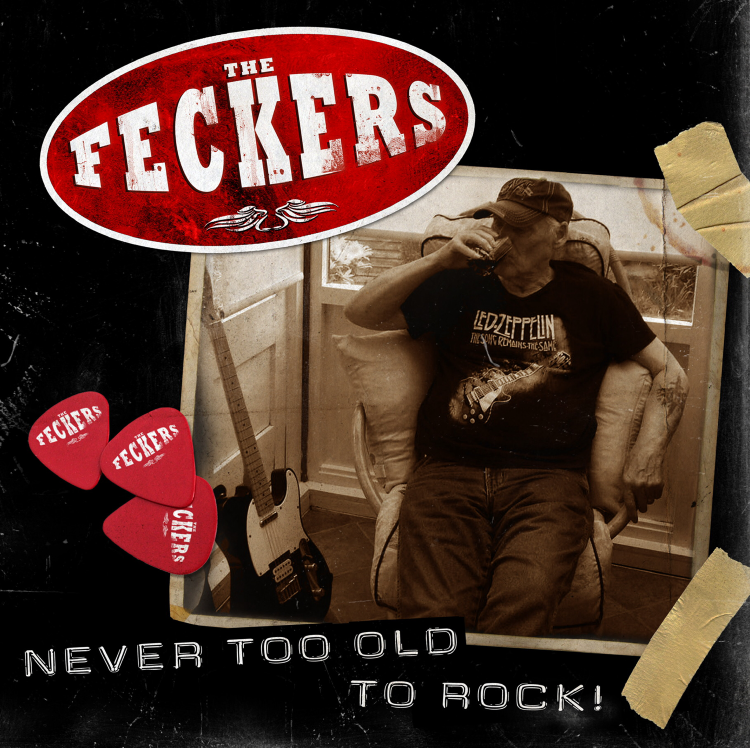 on bass, what a true blessing it was to be able to work with true british rock royalty. This was released digitally in April 2020, and a video single, "Never Too Old To Rock" followed in May 2020, which featured a salute to Jim Gillbanks, and incorporated a lot of friends and family in the ranks of appearances in the video. Great fun!
29th October 2020 saw the physical and digital release of the 2nd album "Live To Fight Another Day", mixed by Dennis Leeflang @ Livelong Productions, mastered by Thomas "Plec" Johannson @ The Panic Room, artwork by Dan Verkys. The cover photo of the hands of Rob and Carol Smith was intended to be for the inner artwork only, but was felt to be such a great "moment in time" that it was decided to be the front cover of the album.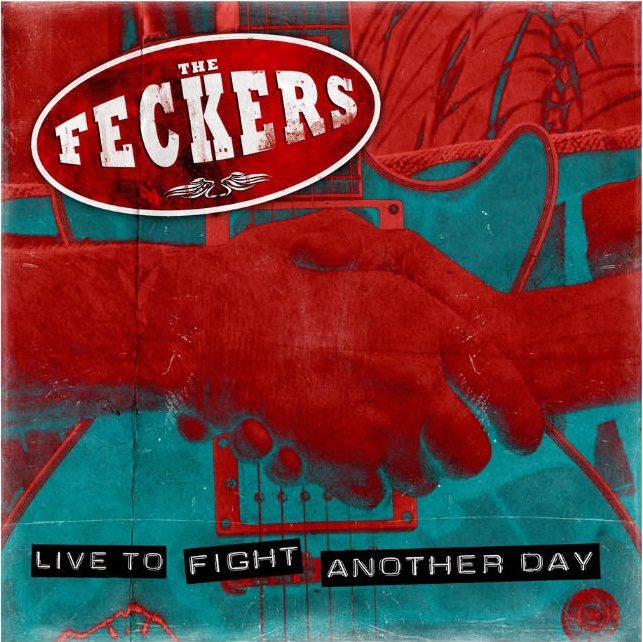 Upcoming Album Releases:
Courage Of Conviction: Part One: Picking Up The Pieces (2021)
Courage Of Conviction Part Two: Moments In Time (2022)
Courage Of Conviction: Part Three: Saving Grace (2023)
Courage Of Conviction: Part Four: Born To Win (2024)
Several EP releases have also been mooted.
The Feckers are…..
Chris Szkup – Composition/Arrangements, Guitars, Bass, Keyboards, Ukulele, Vocals, Backing Vocals, Voice Overs, Handclaps
Richard Anderson – Lyrics, Concepts, Composition/Arrangements, Vocals, Backing Vocals, Voice Overs
Dennis Leeflang – All Drums, Mixing, Percussion, Keyboards, Backing Vocals
Mathew Szkup – Bass, Guitars, Backing Vocals, Musical Composition, Handclaps
Rob Smith – Musical Composition/Arrangements, Vocals, Backing Vocals, Guitars
Brett Collidge – Bass, Backing Vocals
Alessandro Bertoni – Piano, Organ, Mellotron
Raphael Gazal – Vocals, Backing Vocals, Voice Overs, Guitars
Lee Jai-Sung – Bass
Honourary Feckers…..
Dan Verkys – Artwork. Booklet Design
Thomas "Plec" Johansson – Mastering
Alexey Spectre – Vocals, Backing Vocals, Musical Composition
Roy Bratbakken – Vocals
Irene Slade – Vocals, Handclaps
Yohei Eto – Vocals, Voice Overs
Tugra Ismail – Vocals
Ponch Satrio – Guitar Solos
Edo Van Der Kolk – Guitar Solos
Pat Valley – Guitar Solos
Turanga Morgan-Edwards – Guitar Solos
Matteo Bucca – Guitar Solos, Bass
Sudev "Nockas" Bangah – Rhythm Guitars
Joey Huffman – Hammond Organ, Piano
Jordayne "Jordy" Gibson – Backing Vocals
Mark "Chopper" Smith – Backing Vocals
Stephen "Titman" Titter – Backing Vocals
Special Guest Appearances by…..
Lydia Salikova – Vocals
Noah Wall – Vocals
Chris Sligh – Vocals
Thomas Niedermayer – Vocals
Chandler Mogel – Vocals, Lyrical Composition
Carl Lindquist – Vocals
The Feckerina's (Aisha & Jennifer) – Backing Vocals
Ron "Bumblefoot" Thal – Guitar Solos
Brett Garsed – Guitar Solos, Slide Guitar
Richard Fortus – Guitar Solos
Tommy Denander – Guitar Solos
DW Durphy – Guitar Solos
Neil Murray – Bass
Tony Franklin – Bass
Kyle Whalum – Bass
Jonathon Noyce – Bass
Zoltan Renaldi – Bass
Reece Morin – Bass
David Austin – Bass
Trent Williamson – Harmonica
Darcy Stamp – Strings  
Maria Grigoryeva – Strings
Lyris Hung – Strings  
Brianna Tam – Cello's  
Zak Lloyd – Piano
Randy Gilkey – Piano
Diego Zapatero – Piano
Paul Jolley – Piano, Organ, Keyboards
Steve Hacker – Carnivorous Organ & Piano
Kyle Work – Spoken Word
Wth additional thanks to:
Stew Long – Production, Mixing, Mastering, Engineering
Jake Long – Production/ Engineering
Nils-Ole Finbak – Musical Arrangement
Karen Rawlings-Anderson – Lyrical Composition