Chris is also our video editing guy, we could blame him for making the rest of us look dumb by using outtakes but sometimes its hard to tell what actually is an outtake.
When not working with The Feckers, Chris might be releasing music under his own name (two albums and a handful of singles to date), or TCSO (singles and "The Best Of" EP available digitally), or gigging solo acoustic in Melbourne, or in Hobart, Tasmania with Metallica tribute band Cunning Stunts.
For more info, check out http://www.cs-songs.com/
---
From Wellington, New Zealand, Richard co-founded The Feckers with Chris Szkup after several attempts at putting together a collective of like-minds, sadly those other attempts resulted in either lack of communication or commitment from the other entities involved (something we have touched on in song on a couple of occasions). Usually the lyricists/ideas man – he feels right at home bouncing his ideas around
with Chris.
Previously a collaborator with many artists around the world, Richard has also enjoyed laying down vocals/backing vocals for GONE WILD.
He also writes both lyrics and music with his The Feckers/GONE WILD cohort Rob Smith and was involved in the founding of Rob's label Polar Music New Zealand (they still work together in this capacity when time affords them to do so).
Since forming The Feckers, Richard has enjoyed writing in person more with Chris Szkup & Rob Smith:
"One thing I have been pleased with is that we have forged a "No idea is a bad idea" approach to our writing and recording. If it seems like fun and is worthy of those involved then we'll more than likely give it a crack, as long as it rocks, swaggers and rolls".
When not working on music projects, Richard is very active in his genealogical research, has also done some acting (film and tv projects) and has also written his own concepts and scripts. He has just started writing his first novel:
"I felt that I had a story to tell, it just so happens that I can relate quite well to some of the antics and people that have popped up in the story so well….it's been inspired by a few real life circumstances and is very much a rock n roll story"
Extremely prolific with his writing over the years, Richard enjoys creating with his friends, so The Feckers is the perfect foil for this driven middle aged rocker.
Future musical projects are likely to take on a family slant in that he has written material with his niece, Kayla who will feature on The Feckers material as a lead and backing vocalist, (his daughter Jordy and nephew Pacey make their debuts as backing vocalist with The Feckers as well).
---
Born in The Netherlands, residing in the USA since 2004, Dennis Leeflang is a well known session drummer and mixing engineer who has worked on many recording sessions over the years, which he still continues to do and enjoy doing. The Feckers have tapped into his other talents (previously unknown to us) that included him adding some keys and backing vocals to some songs (he can also play a bit of guitar) in recent times.
When the opportunity presented itself for Dennis to be our fulltime mixing engineer, he jumped at the chance and has proven the faith shown in his abilities, he is someone who works WITH the team.
Dennis has collaborated with musicians such as Bumblefoot, Angus Clark (Trans-Siberian Orchestra, Joe Lynn Turner), Ted Poley (Danger Danger), Shane Gibson (KorN), Mike Orlando (Adrenaline Mob), Tiffany Giardina (Disney), Milan Polak (Falco), Kip Winger (Winger, Alice Cooper), Barend Courbois (Vengeance, Blind Guardian), Richie Castellano (Blue Oyster Cult), Fabio Trentini (Guano Apes, H-Blockx), Dilana (Rockstar Supernova), Liam Mogon and Anneke van Giersbergen (The Gathering, Devin Townsend)…..and many more besides.
Apart from performing and recording, Dennis has been a drum instructor since 2000, teaching private drum lessons, clinics, masterclasses and workshops all over the US, Europe and Russia. When not on the road, Dennis is available for private drum lessons in Los Angeles.
Dennis proudly endorses Paiste cymbals, Promark sticks, Evans drumheads, Drumtacs and Ahead Armor Cases.
Want to know more? You know you do! Visit http://www.dennisleeflang.com/ right now!!
---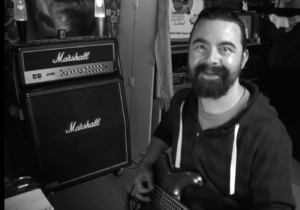 Mathew Szkup – Bass, Guitar, Vocals
From Tasmania, Australia, Mathew Szkup, otherwise known as Skube, learned to play guitar with his brother Chris starting around 1990, and by 1994 had started the local metal band JIGSORE (with a certain Chris on 2nd guitar).
A talented multi instrumentalist, Skube provides guitars, bass, vocals and extra drums / percussion to "It'd Be Rude Not To" as well as Yngwie kicks on "A Soldier's Fortune". He has also recorded guitar and bass parts for the following The Feckers albums, and has co-written some of the songs, including "Don't Mind If We Do" and "Hate The Hate" (both born from jam sessions with his brother in Melbourne) as well.
He currently plays with Hobart band Everburn, and guests with Chris in TCSO and solo, and old bandmate Colin Mahoney in The Calm Before.
---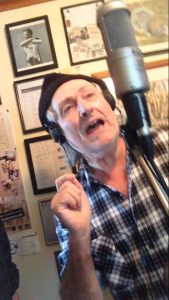 Rob Smith – Vocals, Guitar
Born in England, residing in Ratapiko, New Zealand, Rob Smith – the son of the UK's first professional country music recording artist Andrew Smith, better known by his stage name Houston Wells. Rob and his large family all acquired a love and talent for music. Over the years Rob has been in many bands and has written and recorded with many of them, namely The Bronx, The Candles and Snapdragon.
Rob has written and recorded as a solo artist a number of solo albums, collaborative projects and he co-founded GONE WILD (with fellow The Feckers member Richard Anderson). In 2004 Rob also formed his own label Polar Music New Zealand which releases his solo material and other collaborative projects with such diversity as piano vocal projects with Nils-Ole Finbak (Norway, also a former member of GONE WILD), Something To Remember collaborative album with English country singer Hayley Oliver and now many albums with the RPJ project (Rob Smith, Paul Jolley – his uncle, also featured on the first 2 of The Feckers albums, and former The Bronx bandmate Jeff Lethborg).
Rob is a very capable (actually a genius!) guitarist, vocalist, producer and arranger and an integral member of The Feckers, for whom he has provided lead vocals and guitars on the "It'd Be Rude Not To" album, backing vocals on several recordings (including tributes to KISS and The Godz). Rob has also contributed in a songwriting capacity to the "Live To Fight Another Day" and following albums. There is no doubt that whatever the future holds there will be more Smith connections to come with regards The Feckers recording legacy.
Aside from his work in the realms of music, Rob has also in recent years taken to writing his own sci-fi fantasy books (so far he has produced 4 self published novels). A proud family man, it is no surprise that his daughters were both blessed with beautiful singing voices and have appeared on albums with their father and grandfather in the past. Do not be surprised at all (we won't be) if his grandchildren in time inherit the same love of creating original music (his eldest grandson plays a pretty mean harmonica!).
---