Sessions for "Live To Fight Another Day" have been going really, really well…we have now listed a few more of the tracks and guests here:
http://thefeckers.net/2018/05/08/live-to-fight-another-day-2019/
Getting to work with Neil Murray and Tony Franklin has been a huge blessing and their work sounds fantastic – thankfully they really got into the spirit of things and have been as wonderful as the rest of our mates in the Feckers realm.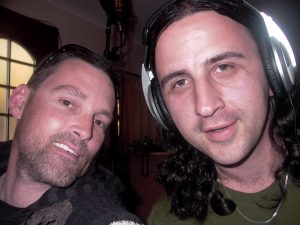 Chris and I are finally catching up in person next week, firstly on Monday October 15, 2018 – we're off to see the mighty Cheap Trick in concert, then the next day we're going to record some vocals and backing vocals for the album (pics/video to come), before I fly out Wednesday to Brisbane, and Chris flies out to Sydney….we'll meet up again on the Thursday in Brisbane for another round of CT asskicking!
I fly home on the Friday and then we commence getting the last few tracks up to album worthy speed (once Chris gets back home himself that is), there's just some wee arrangement ideas we need to tweak then we can get Dennis knocking out some drum tracks.
Currently we're waiting on more of the lead vocal tracks to be completed (Roy, Alexey and Raphael all have some stuff yet to be finished), as well as a few other guest cameo things (hopefully they all fall into place as intended), a few guitar tracks and some bass….we'll also add any additional backing vocals as we go…the technical side of things (mixing, mastering, artwork, CD duplication etc etc) is being tended to in 2019. 
The aim at this stage is for a mid-late 2019 release date for "Live To Fight Another Day", it would've been sooner but I am off to the UK/Ireland for a much needed (and deserved?) 3 week vacation where I will be meeting up with one of our cohorts (Paul Jolley) and at least a couple of our greatest supporters, as well as some family too. Whilst I hate to hold up production of this album, it's a matter of having to, but rest assured this (and the other things we have planned) will be worth the wait!
We have already got a few tracks written now for album #3 ("Courage Of Conviction"), so a 2021 release time frame is being looked at for that – with a rock opera concept EP called "Renegade" planned for 2020. We're also throwing around ideas for a couple of other special things…but more on those later when we can confirm their existence 🙂
thanks for hanging in there….
yours in Feckery…as always, Richard