"The universe is telling us this should probably be an album and not an EP"
these words were uttered by Chris Szkup recently when we were in discussions as to what was actually happening behind the scenes……the end result, forget the 2xEP idea, we're full steam ahead on album #2 "Live To Fight Another Day"….and then some….
Late 2018 should hopefully see the release of at least one single from The Feckers – there is the plan to release another one in 2019 with an official conceptual video, we are in talks with an up and coming director about this at the moment (we like the idea of working with someone young and full of the ideas rather than some tired boring old bossy bastard!)
Recording of "Live To Fight Another Day" see's a few more special guest cameo's (more on them later) have happened this time around – both Chris and I have had a few pinch ourselves moments already.
Mid-Late 2019 we hope to wrap the 13 tracks we are working on for the album, this includes mixing and mastering (we're also writing for 3rd album as well as various EP projects).
Dennis Leeflang is mixing/co-producing "Live To Fight Another Day" – and if he isn't sick of us after that we will keep him onboard for the next album (we did mention there will be a 3rd album didn't we?)  – note: Dennis is still playing the drums.
We are very pleased that we have the wonderful Dan Verkys back onboard to bring the artwork to life – I am pretty good at conjuring up ideas but totally crap at making them a happening thing, so it's great that we have a guy of this nature onboard as part of the team.
On the talent front, a lot of the team that were on our debut album will be back in some form, Chris and I have had fun working out who's playing/singing what – bouncing around ideas back and forth is always a fun thing for us – sometimes we have so many ideas that it leads us to planning for the future as well….
So how are the sessions going you may ask…..you may also get an answer, and that would probably be (if you happened to ask)….fucking brilliantly! The energy levels are pretty high while things are going on – so much so that I have been running on less than my usual bugger all sleep, fielding emails, checking out mixes….flicking mp3's, wav's and all that technical good shit to the four winds has been a fun ride so far, and we really are only getting warmed up :p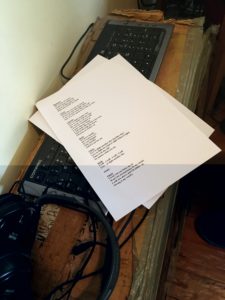 I recently had a recording session with Rob Smith engineering the vocal takes – it was good to be back in the swing of things as it has been quite some time since I last had a crack at something, what made this even more fulfilling was that both my best friend and my daughter were on hand to do a bit of backing vocal singing type stuff, miracles do happen…..
special thanks especially to Chris, Dennis, Rob, Uncle Pauly and Roy for helping to kick the ass out of these songs….
cheers for now, yours in Feckery – Richard